Public Information Meeting
Lee Health Village at Coconut Point
Representatives for Lee Memorial Health System presented details of the proposed Lee Health Village at Coconut Point.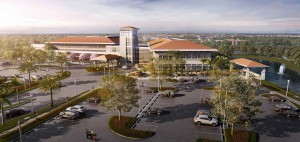 The presentation included features of the 146,545 square foot medical facility, which will include a two-story clinic, an outpatient surgery center and a rehab center.
The facility will be located on approximately 31 acres just south of Coconut Road, with the front entrance on Via Coconut Point and back entrance off of Pelican Colony Blvd., which will be used by ambulances and service vehicles.
Future plans may include a four-story building and helicopter pad if the state issues a certificate of need.
The enhanced landscaping plans call for over 50 species of plants, and there will be small rustic gardens, gathering places and multimodal pathways.   The parking area adjacent to the clinic entrance will be available for art fairs and/or farmers markets on weekends.
Lee Memorial representatives have presented their initial plans to the neighboring communities of Pelican Landing, The Colony, Mirosal, Spring Run, Shadow Wood and the Residences at Coconut Point, and had their second review earlier this day with the Agency for Health Care Administration.
Construction of the Lee Health Village is proposed to start in the spring of 2017 and be open for business by mid-2018.
Public Hearings
McDonald's


Representatives for the McDonald's at Grande Oaks Shoppes Blvd. at Corkscrew Road and Ben Hill Griffin Parkway requested approval of the renovation and upgrades they're proposing to make to their existing building.
Cornices, roof overhangs, and drive-through porte cocheres have been added as well as the rear cooler will be refaced and trellises and vegetation will be added.  The building will be painted in two shades of beige with white trim.  The existing barrel tile roofing will be painted marsh brown.
The Board approved the proposed remodel with the condition that the trim be expanded, lights be added to the sides of the entry door and that landscaping, such as cabbage palms, be placed in front of the ladder and transformer.
Genova


Jim Wallace, Managing Partner of Genova Partners, requested Board approval of their development order for Genova at the southeast corner of Corkscrew Road and Via Coconut Point.
Genova will have 201 residential units in six multi-family buildings, along with an amenity center. The buildings will be four stories, with three residential floors over ground floor parking.  There will be two elevators in each building.  The buildings will be painted in seven different colors, and the roads and sidewalks will be paver stone.
Wallace pointed out that the roof pitch on the liner buildings has been raised to be more pronounced and described the Genova entry sign, which will be slate.
The Board approved this request as presented.  If there are changes to the site design, landscaping or architecture, the applicant would need to come back before the Board.
Workshop
Lakes of Estero

Representatives for Lakes of Estero Phase II, located north of Williams Road between River Ranch and Three Oaks Parkway, requested approval for a three-year extension in order to get approximately $25 million in funding to proceed with their development.
They have already been approved for construction of 132 multifamily units in 11 buildings, a 900 square foot pool house and pool, open parking and related site improvements on approximately 10 acres.
Additional details are available in the minutes of this meeting.  Residents may also view the archived meeting by going to the Village website http://estero-fl.gov/council/watch-meetings-online/.