Conservancy of Southwest Florida
April Olson, Growth Management Specialist with the Conservancy, gave an overview of the Conservancy's role, which is protecting the natural resources in southwest Florida.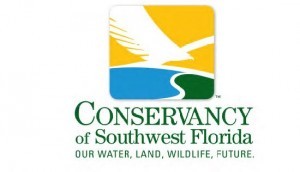 Caitlin Weber, policy analyst, presented the Conservancy's position on hydraulic fracturing, otherwise known as fracking, used in drilling for oil and gas.  She explained that this process uses large amounts of fresh water mixed with hazardous chemicals, some of which are unknown as they are considered proprietary information, and then must be stored underground.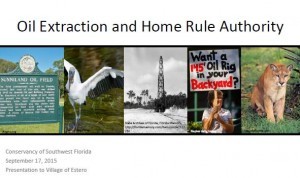 Ray Judah, former Lee County Commissioner and now Coordinator with the Florida Costal and Ocean Coalition, and Estero resident Phil Douglas asked the Council to consider a ban on fracking in Estero.
Council asked for Village Attorney Burt Saunders to investigate the issue further regarding the Burt Harris Act and for Weber to come back with a map showing if and where mineral rights have been retained by property owners in Estero which might lead to horizontal drilling in the future.
Healthy Lee Million Mile Movement
Councilmember Katy Errington read a proclamation in honor of the Healthy Lee Million Mile Movement.  Healthy Lee is challenging Lee County residents to move 1 million miles in 90 days through walking, running, swimming and bicycling — anything that gets people moving toward a healthier lifestyle.  The movement is getting underway October 1. To learn more, go to their website at www.HealthyLee.com.
False Alarm Ordinance
Council discussed adopting a False Alarm Ordinance now that Estero is no longer covered by the Lee County ordinance.  False alarms cause a misuse of the Lee County Sheriff's Office's resources by dispatching units to the scene of the false alarm, thus these units are unavailable to respond to a legitimate emergency situation.  Fines associated with this ordinance would go to the Sheriff's Office.
Additional information is available in the minutes of this workshop.