Public Information Meeting
Edera at Coconut Point

Representatives for Edera at Coconut Point gave a presentation regarding their proposal to build 200 multi-family apartments on 6.62 acres on the east side of Via Coconut Point, just south of Williams Road.
The apartments would be situated in four buildings around the perimeter of the site and would include three stories over parking.  Apartments would range from studio, 1-, 2- and 3-bedrooms, and rentals would range from $1100 to $1900 monthly with an annual lease.  They also plan to include an amenity center and pool.  Target renters would be working professionals and active adults.  (Presentation)
Seven members of the public spoke of their concerns about traffic due to the single access to this site and proximity to the roundabout and Rapallo community, height of the buildings, and lack of open space between the buildings.
Since this was a Public Information Meeting, the Board took no action.
Public Hearings
Tommy Bahama Coconut Point Marlin Bar Café
Representatives for Tommy Bahama Coconut Point Marlin Bar Café were seeking approval for the sale of beer, wine and alcohol at their proposed indoor/outdoor restaurant at 23150 Fashion Drive in Coconut Point Mall.
They are relocating their existing store to the site where Boston Proper and Lucky Brand Jeans had previously been.  The new store will combine retail with a bar and restaurant with limited food service.  They plan to be open during the hours of 10 a.m. to 11 p.m. (Presentation)
The Board voted to approve this application.
Shoppes at Coconut Trace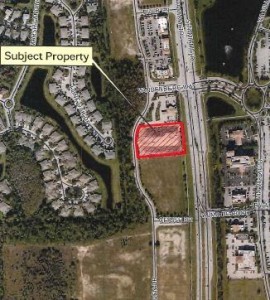 Representatives for the Shoppes at Coconut Trace requested additional commercial/retail uses on their 1.34 acre site, which is partially built at 22910 Lyden Drive off US 41 and west of Coconut Point Mall.
The applicant also requested a deviation to reduce their parking spaces by 6 spaces, to a total of 115 spaces with the addition of bicycle racks, and a monument sign setback reduction to 10 feet from the currently required 15 feet.
The Board voted to recommend to Council approval of the 10 foot sign setback and approval of the additional uses subject to the reverse frontage road system being completed, accepted and open to the public. (Presentation)
Additional details are available in the minutes of this meeting.  Residents may also view the archived meeting by going to the Village website http://estero-fl.gov/council/watch-meetings-online/.