Tax Rate and Fiscal Year 2015-2016 Budget
The Council conducted a public hearing regarding property taxes and adoption of the budget for Fiscal Year 2015-2016.
The ad valorem operating millage rate for 2015 is proposed at .8398 mills, which is about 84 cents per $1,000 of taxable value.
A tentative budget of $6,568,650 was approved, with the inclusion of $17,850 to pay for a Lee County Sheriff's Deputy to attend each of the Council, Planning & Zoning Board, and Design Review Board meetings and workshops.
The budget and property tax rate will be finalized at the Council meeting at 6:30 p.m., Wednesday, September 16.
Village Manager Finalists
Contractor Colin Baenziger & Associates has narrowed the field of village manager candidates from 80 down to six semifinalists and one alternate.  Emphasis was placed on managerial skills, knowledge of government light operations and experience with community development.
Residents are invited to meet the candidates at a reception from 6 – 8 p.m., Thursday, September 10, at the Estero Fire Rescue, 21500 Three Oaks Parkway.
Council members will have an opportunity to interview the candidates individually on Friday, September 11.
Florida Power & Light Franchise
A first reading was conducted for a non-exclusive, 30-year franchise with the Florida Power & Light (FPL) Company.  Once approved, FPL will start to make monthly payments to the village totaling $636,000 annually, starting in January 2016.
Community Development Services
Vice-Mayor Howard Levitan stated the village is in contract negotiations with Calvin, Giordano & Associates, Inc., to provide community development services for Estero.  A draft of the contract will be available for review at the Council meeting on September 16.
Village Hall Offices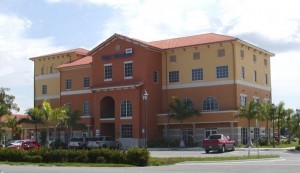 Sterling Design Group has been selected to renovate and remodel the future Village Hall offices located at 9401 Corkscrew Palms Circle.
The Village is close to exhausting the available office space in the Estero Fire Rescue (EFR) headquarters, and EFR would like the Village to exit the building in October 2016.
The Corkscrew Palms Building offers space for expansion and a larger number of parking spaces for those wishing to attend Council meetings.
Council member Bill Ribble thanked Joe McHarris, a member of the Design Review Board, who performed pro bono work to assist in this project.
Audit Selection Committee
Council approved a resolution accepting the Audit Selection Committee's recommendation authorizing a three-year contract with CliftonLarsonAllen LLP to provide financial audit services to the village.
Public Input of Non-Agenda Items
Estero resident Phil Douglas asked Council members to take a position to protect the Density Reduction/Groundwater Resource (DR/GR) area adjacent to the village.  He suggested that a resolution be passed to prevent "fracking" in this area due to the excessive amounts of water used in the process and various chemicals which end up being dispersed into the ground.
Don Eslick, interim chairman of the Estero Council of Community Leaders (ECCL) read from an August 28, 2015, ECCL resolution which "encourages the Village Planning and Zoning Board and the Village Council to include the civic, recreational and arts and entertainment assets…in the section of the Village Center south of Corkscrew Road, and expanded public, bike and pedestrian access to the Estero River, improved integration of the Koreshan State Site and the Boomer/future State Park property with the historic and river access properties on the east side of US 41 and preservation of the historic properties in the Old Estero area north of the Estero River into an expanded Village Center north of Corkscrew Road."
Estero Fire Rescue Chief Scott Vanderbrook invited the Council and public to attend a "live" fire demonstration, followed by a description of the new sprinkler ordinance starting at 1:30 p.m., Tuesday, September 15, at 21500 Three Oaks Parkway.
Village Manager Comments
Peter Lombardi stated that future minutes from village meetings and workshops and Planning & Zoning Board and Design Review Board meetings and workshops will be abbreviated in form.  Since all meetings are recorded, a permanent record of each meeting is available for anyone wanting to access this information.
Additional information is available in the minutes of this meeting.