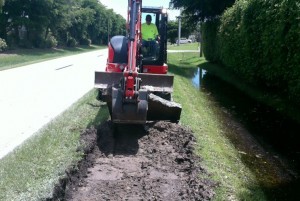 The Village of Estero is working on upgrading and, in some areas, replacing sidewalks within the Village.
River Ranch Road is the first street to receive such improvements due to the condition of the sidewalks. This stretch of sidewalk has a significant number of cracked or uneven sections, which pose a potential safety hazard to traveling residents.
The River Ranch Road project will consist of replacing damaged sections and cleaning unbroken, older sections. This two-step process will help to ensure the entire stretch looks as uniform and new as possible, while limiting costs (as opposed to replacing the entire section).
This project is designed to provide safe, clean pathways for high school students and other neighboring pedestrians.  The work is expected to be completed by the end of August.
The Village of Estero contracted with Pritchard Construction and Barefoot Maintenance Specialists to complete this improvement project.