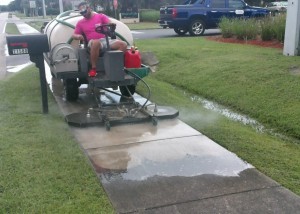 The Village's first sidewalk improvement project is now complete, right on schedule.
The River Ranch Road project consisted of replacing damaged sections of sidewalk and cleaning unbroken, older sections from Corkscrew Road south to the Estero High School.
Initially, the cracked sidewalks were removed and replaced, and now the remaining sidewalks have all been pressure washed.  With the unique method of machine pressure washing, the older sidewalk blends in with the new sections, making for a cleaner overall look.
This two-step process ensured that the entire stretch looks as uniform and new as possible, while limiting costs (as opposed to replacing the entire section).
River Ranch Road is the first street to receive such improvements due to the condition of the sidewalks along that road.  This stretch of sidewalk had a significant number of cracked or uneven sections, which posed a potential safety hazard to traveling residents.
The Village of Estero hired Pritchard Construction to remove and replace the cracked sections of the sidewalk, while Barefoot Maintenance took on the job of pressure washing the older sections of sidewalk.