Public Information Meeting
Estero United Methodist Church

Representatives for the Estero United Methodist Church are proposing a number of changes to their building, sanctuary and grounds.
The first phase is to add an expansion for classrooms, office space, library and meeting rooms. They are proposing a metal roof matching their Thrift Shop, which is "Old Florida" style.
They are planning to add what they're calling two community focal features or landscaped seating areas for use by the public.  They also will be asking for a deviation for no plantings around the dry detention area as this area is used for a variety of activities during dry season. (Presentation)
Since this was a Public Information Meeting, the Board took no action.
Public Hearings
Perkins Restaurant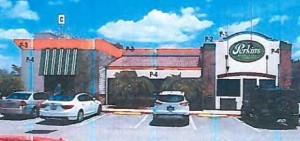 A representative for Perkins Restaurant presented plans for renovations their building at 20320 Grand Oaks Shoppes at the northeast corner of Corkscrew Road and Ben Hill Griffin Parkway.
They are proposing minor exterior renovations to the building consisting of a metal awning over the entrance, new lights, a wall sign relocation and trim paint. (Presentation)
The applicant asked for a continuance to a future date meeting to return with paint samples and more detailed drawings.
Springs at Gulf Coast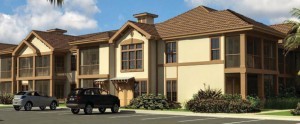 Representatives for the Springs at Gulf Coast were requesting a development order.
Located at the northwest corner of Highland Oaks Drive and Miromar Outlet Drive, the project is a 203-unit multi-family apartment complex with onsite parking garages and other amenities on approximately 14 acres.
The representatives demonstrated some of the changes they have made to the buildings and landscaping as a result of suggestions made at previous Board meetings. (Presentation)
The Board approved this application with conditions that the metal roof stoop covers match the building, the sidewalk near the dumpster be moved to accommodate podocarpus or another similar shrub and, If possible, allow for two points of connectivity to the Miromar Outlet Mall.
Additional details are available in the minutes of this meeting.  Residents may also view the archived meeting by going to the Village website http://estero-fl.gov/council/watch-meetings-online/.