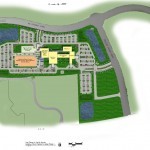 Eight construction management firms and ten architectural design firms have responded to Lee Memorial Health System's (LMHS) Request for Qualification (RFQ) for architectural and construction management services.
The RFQ submittals are currently under evaluation by a special LMHS selection committee that is scoring each proposal on how well it meets the selection criteria.  Assessing each firm's strengths and capabilities enables the health system to assemble the best qualified team to bring the vision for this project to reality.
The evaluation process will end August 10, with the choice of three top firms.  These finalists will then make formal presentations to the committee on August 26.
Recommendations will then go to the LMHS's Board of Directors in September, followed by contract approval, expected in October.
LMHS's new medical campus is being designed to enhance the patient experience through coordinated comprehensive care that will also address service gaps in the community.[/fusion_builder_column][/fusion_builder_row][/fusion_builder_container]