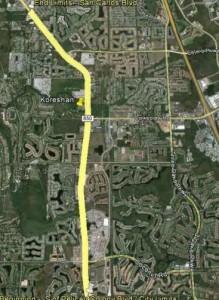 The new roadway lighting project along US41, starting just south of Pelican Colony Blvd. and traveling north 5.25 miles to San Carlos Blvd., is underway.
The new LED lights reduce energy costs by up to 60 percent, have a 25-year lifetime and are recyclable.
The design for the project was completed earlier this year and construction initiated on November 28, 2016.  The project should be completed in January 2018.
The electric and maintenance cost to the Village will be approximately $8,200 annually.
The roadway lighting system maintenance agreement between the Village of Estero and the Florida Department of Transportation was approved at the January 6, 2016, Council meeting. (Resolution 2016-02)