Councilmembers voted unanimously to cut Estero's tax rate substantially to .7998 mills from the originally proposed .8398 mills, honoring their pledge of "government lite" operations.
Council also established a very significant dedicated reserve of $2,389,600, which would provide 4 months of operating revenue to be used only for a natural disaster or fiscal downturn.   The plan is to continue to grow the reserves each year until there are funds available for 12 months of operation.
In addition, Council set the Village's first fiscal year budget at $11,517,400.  This budget includes $3,471,580 for Capital Projects.  Council will vote on specific Capital Projects at a later date.
The overall budget is based on conservative financial principles which will keep the Village in sound financial shape in the future. (2016-17 Final Budget Hearing Presentation)
Public Hearings
Resolution 2016-28
Council approved this amended resolution adopting the final levying of ad valorem taxes at .7998 mills for the Village of Estero for Fiscal Year 2016-2017.
Resolution 2016-29
Council approved this resolution adopting the final budget for Fiscal Year 2016-2017, which is set at $11,517,400.  (Resolution)
Proclamation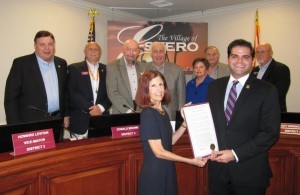 Council presented a Proclamation congratulating Lee Memorial Health System on its Centennial Anniversary and recognizing its contributions to the community.
Lee Memorial Health System Board Director Nancy McGovern and Michael Nachef, Director of Government Relations, both expressed appreciation while accepting this Proclamation. (Proclamation)
Special Guests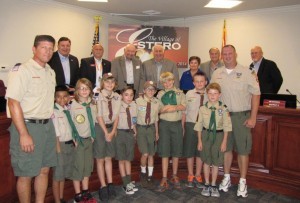 Pack 30 Webelos Den Scouts also attended this meeting.
The fifth graders came to see local government in action.
Ordinances
Second Reading and Public Hearing
Ordinance No. 2016-11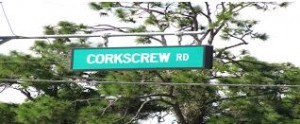 This ordinance provides the Mayor the authority to execute an interlocal agreement with Lee County for the continuation of the University Landscaping operation and maintenance special improvement unit.
This service was established by Lee County in 2000 to install and maintain enhanced landscaping on portions of Corkscrew Road, Ben Hill Griffin Parkway and Estero Parkway.  Charges for this service are assessed and collected by Lee County from the residents within the improvement areas. (Ordinance)
Ordinance No. 2016-12
This ordinance authorizes Lee County to levy special assessments within the Village boundaries for municipal solid waste disposal.  Solid waste charges are assessed and collected by Lee County Utilities.  The solid waste franchise fees budgeted for 2016-17 total $215,000.  (Ordinance)
Action Items
Resolution N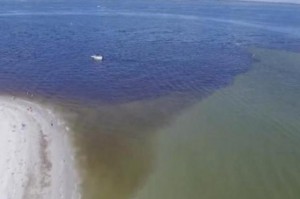 o. 2016-24
Council approved this resolution which supports the Everglades for the Next Generation Act providing emergency funding for repairs to the Herbert Hoover Dike, the Everglades Land Acquisition Act of 2016, and the Federal Partnership for Clean Water Land Acquisition Act of 2016.  (Resolution)
Letters to Congressman Curt Clawson and Senator Bill Nelson
Council approved authorizing the Mayor to sign letters to Congressman Clawson and Senator Nelson supporting action to address damaging discharges from Lake Okeechobee which have led to the spread of toxic algal blooms in Florida.  (Letters)
Resolution 2016-25
Council approved this resolution which addresses the issuance by the Capital Trust Agency of its senior housing revenue bond notes to finance the Colonnade of Estero project. Village Attorney Burt Saunders explained this presents no potential liability to the Village or Village Council. (Resolution)
The proposed Colonnade of Estero will include 340 beds ranging from independent and assisted living apartments to skilled nursing and memory care on the east side of Sandy Lane and Corkscrew Road.
Agreement for Election Services

Council postponed approval of the agreement for election services with the Supervisor of Elections of Lee County to receive further clarification of the agreement.  This will be reviewed again at the October 5 meeting.
Additional details are available in the minutes of this meeting.  Residents may also view the archived meeting by going to the Village website http://estero-fl.gov/council/watch-meetings-online/.