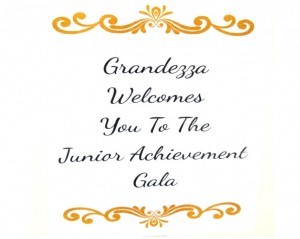 Councilmembers Bill Ribble, Howard Levitan, Katy Errington, Jim Boesch, Jim Wilson and Nick Batos and Village Manager Steve Sarkozy and their spouses were among the 186 Estero residents attending the fifth annual Breaking Par Gala at The Club at Grandezza on Saturday, April 22, 2017.
The gala dinner featured both live and silent auctions, helping raise funds for Junior Achievement of Southwest Florida.
The following Sunday morning shotgun scramble golf tournament was postponed due to inclement weather.  The golf tournament was rescheduled for Sunday, April 20, followed by an awards ceremony and buffet.
Total monies raised at this year's two-day event will be reported following the conclusion of the golf tournament.
"Breaking Par at Grandezza" serves as the predominant funding source for Junior Achievement of Southwest Florida's flagship program, CEO Academy – a "model" week-long business school summer camp held for rising high school juniors and seniors in partnership with Florida Gulf Coast University (FGCU).
Proceeds from previous Breaking Par events have provided funding totaling more than $200,000 in support of the Junior Achievement of Southwest Florida CEO Academy and additional programming. The CEO Academy offers intense interaction with local leaders, high-energy team building activities and teaching the value of free enterprise, business and economics in order to prepare students for success in the global economy.
Junior Achievement is the world's largest organization dedicated to giving young people the knowledge and skills they need to own their economic success, plan for their future, and make smart academic and economic choices.  Junior Achievement programs are delivered by corporate and community volunteers, and provide relevant, hands-on experiences that give students from kindergarten through high school knowledge and skills in financial literacy, work readiness and entrepreneurship.
This slideshow requires JavaScript.