Estero residents were invited to a reception on Thursday, September 10, 2015, to meet the six finalists applying for the job of Village Manager.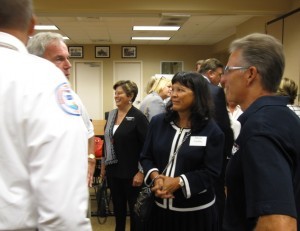 Contractor Colin Baenziger & Associates narrowed the field of village manager candidates from 80 down to six. They are: Tami Hanlin, Mark Kutney, Maria Lasday, Craig Malin, Steven Sarkozy and Marcia Segal-George.
This special reception was an opportunity for both members of Council and the public to meet and have an opportunity to learn more about each of the candidates in an informal setting.
Council members were to conduct formal interviews with each of the candidates on Friday, September 11.
The Council will have the opportunity to select a finalist for Village Manager at their meeting at 6:30 p.m., Wednesday, September 16. If a finalist is selected at that time, a contract will be negotiated and ratified at a later date.