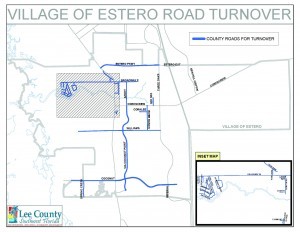 At their December 20 special meeting, the Village Council approved the interlocal agreement which formally transfers all responsibilities for most of the roads in Estero from Lee County to the Village, effective January 7, 2017.
Council had tabled this discussion from their December 7 meeting in order to gather further information about taking over a portion of Corkscrew Road west of US 41. Village Manager Steve Sarkozy stated the County had recently quick deeded that portion of Corkscrew Road to the Village.
Included in this agreement, in FY 2019, the County has agreed to contribute to improvements to Estero Parkway in the amount of $1,686,610 for the construction of sidewalk segments and $509,603 toward the road resurfacing.
This agreement formally transfers all responsibilities for ownership, jurisdiction, operation and maintenance of roads to the Village.  The roads which are not included are: Ben Hill Griffin, Corkscrew Road, Estero Parkway Extension, Imperial Parkway and Three Oaks Parkway.
Council Communications
There was a discussion about the Lee County Metropolitan Planning Organization (MPO) working to expand the Florida Department of Transportation's SUN Trail Network in Lee County.  The Office of Greenways and Trails is currently soliciting input from Florida MPOs in order to update its map for 2018.  Council agreed that a joint workshop with the Bonita Springs City Council should be scheduled in 2017.
Additional details are available in the minutes of this meeting.  Residents may also view the archived meeting by going to the Village website http://estero-fl.gov/council/watch-meetings-online/.
The next meeting will be at 9:30 a.m., Wednesday, January 4, 2016.