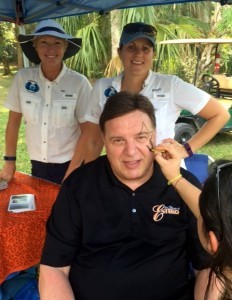 District 1 Council member Bill Ribble joined in on the festivities at the annual Koreshan State Park Halloween Fest by having his face painted courtesy of the Kayaking Tour volunteers.
This was just one of the many activities available at the family-friendly Halloween celebration.  Park rangers were on hand to describe the history of the park and the Koreshan Settlement Plan.
Many community-wide activities are conducted at the park on Corkscrew Road.  There will be a vintage RV show on Saturday, November 7; there is a Farmers' Market open every Sunday from 8 a.m. – 1 p.m., and the park's historic Art Hall is home to the Estero Concert Series each "season".  The next chamber music concert is scheduled at 4 p.m., Saturday, December 12.
A boat ramp and canoe rental is available. Visitors can take self-guided tours or a ranger-guided tour.
For additional information about this very special place in Estero, go to https://www.floridastateparks.org/park/Koreshan.