Village's First Comprehensive Plan Underway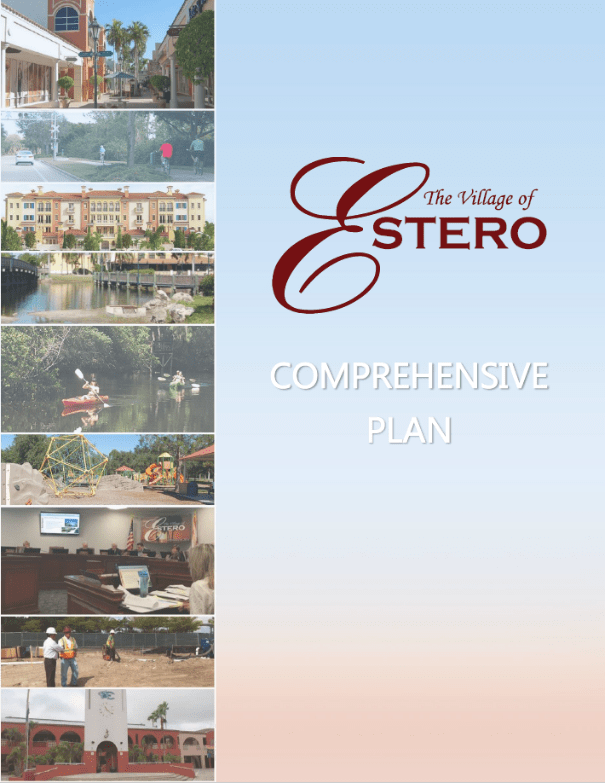 The Lee County Comprehensive Plan became the Estero Transitional Plan when the Village incorporated.  Over the past year, staff and the planning firm of LaRue Planning and Management, have worked to prepare the Village's first Comprehensive Plan of its own. Numerous public meetings and workshops have been conducted with the Planning and Zoning Board and Village Council.
The new Comprehensive Plan was transmitted by Council's vote to the State Department of Economic Opportunity January 10, 2018. Evaluations by state agencies are being conducted over a 60 day review period. State  agencies such as;  Department of Education, Department of Transportation,  Department of Environmental Protection and Historic Preservation  have the opportunity to review and comment on the submitted Plan.  In addition the Regional Planning Agency, South Florida Water Management District, Lee County and Bonita Springs also contribute to the final Plan through their comments.
Staff expects to receive state department and agency comments by mid-March. The next step is to revise the new Comprehensive Plan as needed and then schedule a public hearing before Village Council tentatively in April.
If you have question, please feel free to contact the Village at 239-221-5036.
The Comprehensive Plan establishes a community's policies and priorities regarding future development while aiming to preserve the community character.
The Comprehensive Plan serves as a blueprint for future commercial and residential land uses, transportation needs, environmental resources and housing, as well as cultural and recreational amenities.
Each local government Comprehensive Plan must include at least two planning periods, one covering at least the first 5-year period occurring after the plan's adoption and one covering at least a 10-year period. The Plan includes the following elements: Vision Statement, Future Land Use, Transportation, Community Facilities and Services, Parks, Recreation and Open Space, Capital Improvements, Conservation and Coastal Management, Housing, Historic Preservation, Schools and Intergovernmental Coordination.
Florida State Statute 163.3167(3) requires that within three years of a municipality's incorporation a Comprehensive Plan be prepared and adopted. Until the new Plan is adopted the Lee County Comprehensive Plan is deemed controlling.
The public meetings have been successful. Many citizens have come to share their vision, hopes and concerns for the future of Estero. However, the process is not complete and there are more public meetings scheduled. Please see upcoming meeting dates listed below. You can also use the links provided to view presentations from past meetings, data & analysis documents, as well as compilations of the public participation comments received.
Past Meetings
Our current adopted vision for Estero is to establish a community that embraces its historic heritage and protects the environment while carefully planning for future development, offering a high quality of life, expanding economic opportunities, and proximity to Florida Gulf Coast University and the Southwest Florida International Airport.
Estero's growth will be planned with strong neighborhoods, diverse economic generators, interconnected mixed-use centers, varied parks, public spaces, recreational facilities, and unique natural environments that foster a sense of belonging that creates a sense of place. Estero will be a highly valued place to live, work, and visit because of development standards and design guidelines that promote;
Desirable neighborhoods and public amenities;
Vibrant economic centers;
Attractive landscaping, streetscaping, lighting, signage, and architectural features; and
An interconnected transportation network.
Comprehensive Plan Public Hearing January 10, 2018
Council Workshop January 3, 2018
PZB Meeting December 19, 2017
Council Meeting December 6, 2017
Council Workshop November 29, 2017
Council Workshop November 15, 2017
Council Workshop November 1, 2017
Council Workshop October 25, 2017
Council Workshop October 18, 2017
PZB Meeting October 17, 2017
PZB Meeting September 19, 2017
PZB Meeting August 17, 2017
PZB Meeting July 25, 2017
PZB Meeting June 1, 2017

Presentation:
Intergovernmental Coordination, Capital Improvements, and Public School Facilities

PZB Meeting May 16, 2017

Presentation:
Conservation & Coastal Management, Housing, Infrastructure

PZB Meeting April 26, 2017
PZB Meeting April 6, 2017
February 23, 2017 Special Meeting
January 11, 2017
Presentation City of Sanibel Mayor Kevin Ruane asked Council to support key messages for the US Army Corps of Engineers, Florida Department of Environmental Protection and the South Water Management District pertaining to releases from [...]