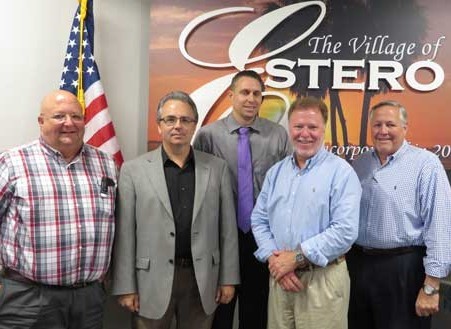 Design Review Board members (left to right): William Glass, Scott Anderson, Thomas Barber, Chairman Barry Jones, and Vice-Chairman Michael Sheeley. Absent is Edward Zachariah.
Design Review Board
The Design Review Board (DRB) is responsible for reviewing the architectural and landscaping appearance of all new developments.  The DRB is using ordinances based on those of the City of Boca Raton; supplemental standards may be adopted in the future.
Public workshops are being conducted for each application prior to decision-making meetings.
The DRB meets on the 2nd and 4th Wednesday of each month at 5:30 p.m. in the Council Chambers of the Village Hall, 9401 Corkscrew Palms Circle, Estero Florida.  The public is invited to attend and participate in these meetings.
The Council's goal is to enhance public participation and is investigating the best method of notifying all communities impacted by matters brought before the Board.
Design Review Board Resolutions
Representatives for Wildcat Run Country Club located on Corkscrew Road gave a presentation on their proposed expansion of the Grill Room, outdoor deck and bocce courts on October 9. They plan to enhance the existing [...]