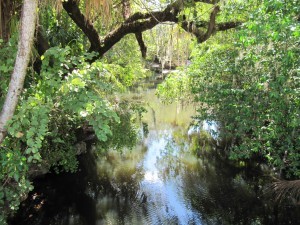 Council adopted resolution 2018-06 at the Council meeting on September 20, approving the land purchase along the Estero River. This is 62 acres of land on the northeast corner of Corkscrew Road and US 41 which extends north to Judeth Lane and east to the railroad tracks. This purchase is being conducted in response to residents' requests to embrace Estero's historic heritage and protect the environment.
Additional details will be available in the minutes of this meeting.  Residents may also view the archived meeting by going to the Village website http://estero-fl.gov/council/watch-meetings-online/.
Most of this property was originally part of the Koreshan Settlement in Estero in the early 1900s. Much of the land was cleared and planted with citrus groves, which were situated alongside the Estero River to take advantage of shipping down the river to the Gulf.
Prior to the Village's incorporation, this property was rezoned by Lee County from agricultural to commercial, residential and mixed use. The Village has been in discussions with the current landowner for many months to determine how the most environmentally sensitive portions of the property may be preserved. For more on the history of Estero, see our History Page.
The Village Council has approved the purchase of 62 acres of this property to protect the river, maintain/improve public access to the river, and preserve the many heritage trees on the property. The long-term vision is to connect this land with Koreshan State Park in order to provide up to 330 acres of contiguous green space for Estero residents to enjoy.
The Trust for Public Land, a 501(c)(3) organization which helps complete land purchases for governments, is serving as the broker for this transaction. The Village will pay approximately $26 million, including the land and associated real estate fees to secure this property. To do so, the Village will assume long term debt for up to 30 years. However, given the Village's strong financial position, the Village intends to make additional prepayments in order to pay off the loan possibly as early as seven years. To further mitigate this cost, select parcels north of the river, which are not as ecologically significant, may be sold for development. This will not impact river access or the preservation of heritage trees. Additionally, this purchase will not draw down reserves or compromise the Village's ability to respond to natural disasters.
Property Details & History
October 31, 2018 @ 9:30 am

September 20, 2018 @ 5:30 pm

September 5, 2018 @ 5:30 pm
Estero on the River 10-year Bank Loan Council approved awarding the fixed rate, 10-year bank loan RFP to Capital Bank, a division of First Tennessee Bank to provide funding for the Estero on the River [...]
Councilmembers Jon McLain, Howard Levitan, Vice-Mayor Bill Ribble, Senator Kathleen Passidomo, Councilmember Katy Errington, Mayor Jim Boesch, Councilmembers Jim Wilson and Nick Batos State Senator Kathleen Passidomo presented Council with a legislative update, [...]
Council adopted a new resolution approving the purchase and sale agreement with the Trust for Public Land for 62 acres of land adjacent to the Estero River at their meeting on October 31. This special [...]
Action Item  Resolution No. 2018-18 – Estero River Land Purchase Council adopted this resolution with changes made to the purchase and sale agreement. The resolution authorizes the amended purchase and sale agreement with The Trust [...]
Public Comment Barbara Saxton, Friends of River Oaks Preserve, stated the group is now comprised of 12 members. Volunteers from FGCU and the ROTC will be helping clear some of the invasives on the property [...]