The Estero Concert Series will feature Francis Poulenc's Sonata for Oboe and Piano Op. 185, Robert Schumann's Three Romances for Oboe and Piano, and Franz Schubert's String Quartet No. 13 in A minor at their upcoming concert at 4 p.m., Sunday, March 13.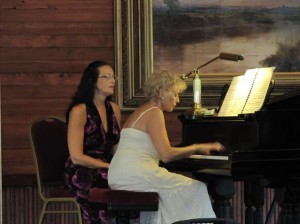 Performing artists include: Judy Christy on oboe; Bella Gutshtein on piano; Boris Sandler, Ruth Leone on violins; Katrina Rozmus on viola, and John Marcy on cello.
The performance will be held at the historic Art Hall at the Koreshan State Park, 3800 Corkscrew Road.  Seating is limited to 90 attendees.
Tickets are available at $40 per person; this price includes entrance to the park.  These concerts have been sold out in the past so reservations are recommended.  Reservations may be made by calling (239) 596-8404 or emailing rcc@rccnaples.org.