Public Hearing – Ordinance 2017-09 – Park Place of Estero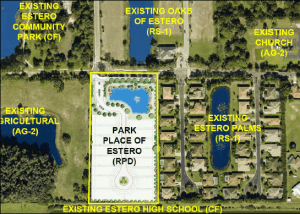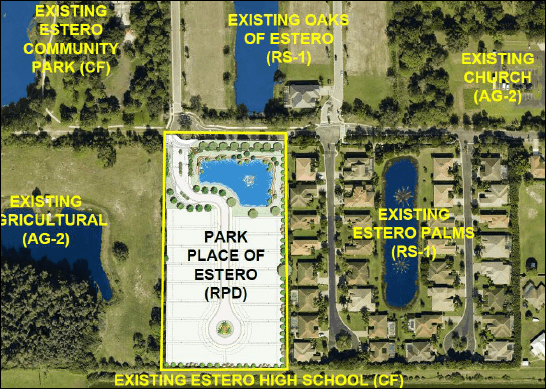 This was a second reading and public hearing for Ordinance 2017-09, an amendment allowing a reconfiguration of the Master Concept Plan for the 5 acre-property located at 9400 Block Lane.
Park Place of Estero will be reducing the number of lots on their property from 26 to 16 single family lots.  They plan to build one story, 3,500 square foot semi-custom single family homes with either an extended lanai or a three car garage.
Among the conditions for approval is the addition of sidewalks on both sides of the street in this gated community.  In addition, they will be preserving two heritage pines and one heritage live oak on the property. They have added a meandering lake with layers of littoral plants and a lighted fountain and shaded pedestrian seating area at the front of the community which can be accessed by the public.
This property is located at 9400 Block Lane, west of River Ranch Road. (Park Place Presentation)
Workshop – Comprehensive Plan – Population Trends & Other Data
A representative from Metro Forecasting Models conducted a brief workshop reviewing Estero's past growth and permitting history to future population and housing growth. (Presentation)
This was one of a several upcoming Council workshops in conjunction with the Village's first Comprehensive Plan which will be transmitted to the state for approval early next year.
Additional details are available in the minutes of this meeting.  Residents may also view the archived meeting by going to the Village website http://estero-fl.gov/council/watch-meetings-online/.
The next Council meeting will held at 9:30 p.m., Wednesday, November 1, 2017.