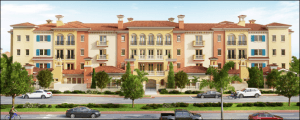 Genova, currently under construction at the southeast corner of Corkscrew Road and Via Coconut Point, is requesting minor architectural modifications to the towers, chimneys and windows in their buildings, and giving notice to add two units to Buildings E and F under their approved zoning.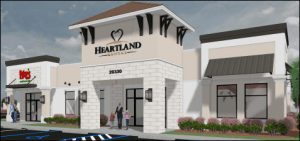 Representatives for Heartland Dental, a 5,520 square foot multi-tenant (medical/dental & retail) building, are requesting approval for their development order.  This building will be located in the Grande Oaks Shoppes north of Corkscrew Road and east of Ben Hill Griffin Parkway.
In addition, Lee Health, Estero Dialysis at Corkscrew Palms and Marsh Landing will present their proposals during a Public Information Meeting.
The full agenda is available here: https://estero-fl.gov/agendas/
Residents are invited to attend and comment on the proposed projects or they may watch the meeting online at: http://estero-fl.gov/council/watch-meetings-online/.
Design Review Board meetings are held at 5:30 p.m. the second and fourth Wednesday of each month in the Village Hall Council Chambers, 9401 Corkscrew Palms Circle, near the entrance to the Estero Community Park.