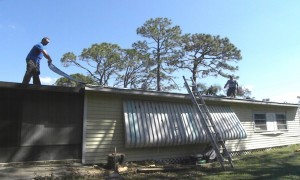 Volunteers from Rotary District 6960 went right to work to assist residents on Luettich and Sherrill Lanes clean up some of the damage Hurricane Irma inflicted on their neighborhood off West Broadway in Estero.
The Rotary Clubs are "adopting" Hurricane Irma-damaged communities, giving priority to those communities with children and the elderly. This will be a long-term project to address all of Irma's impacts, not only in Estero but Bonita Springs and other neighboring communities in southwest Florida.
Rotary 6960, of which the Estero Rotary is a member, needs volunteers for this endeavor to do everything from heavy lifting to phone calls, sharing posts on social media and raising funds for the project. Those interested in volunteering should send an email to mary@saundersgrouprealty.com and let her know if you are/are not a Rotarian.
The Rotary has set up a Donor Advised Fund through the Rotary Foundation. You may make a contribution to Rotary District 6960 Disaster Relief Fund by check made payable to The Rotary Foundation DAF, in memo line write Rotary District 6960 Relief Fund, Acct# 611, and mail it to Rotary DAF c/o NRS, 12 Gill Street, Suite 2600 Woburn, MA 01801.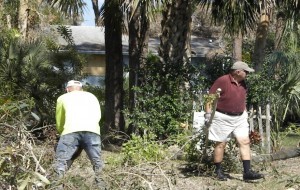 You may also make a contribution by credit card at https://www.your-fundaccount.com/rotary/howtocontribute.asp. You will need to enter the Account Name: Rotary District 6960 Disaster Relief Fund and the account #611.
You may also purchase much needed supplies through Amazon.
To find the Rotary's "wish list" on Amazon:
On the Amazon home page, mouse over "Accounts and List"
Under the "Your Lists" click on "Find a List or Registry"
Enter "Rotary Clubs of SW Florida Disaster Relief" in the search bar. Note, you can enter "Rotary Clubs" or "SW Florida" and it will bring you directly to the wish list.
At checkout, when you select the address, use the Bonita Springs Estero Association of Realtors gift registry.