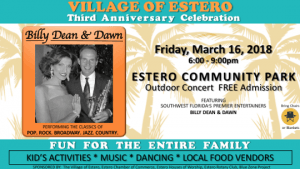 The Village of Estero will celebrate its 3rd anniversary at 6 p.m., Friday, March 16 with a free family-oriented party at the Estero Community Park.
There will be face painting and other children's activities, food vendors and outstanding entertainment provided by southwest Florida's premier entertainers Billy Dean & Dawn.  A short recognition of Estero's community leaders will take place from 6:30 – 7 p.m., and then the entertainment starts again and continues until 9 p.m.
This party is geared to bringing the entire community together in a fun atmosphere to celebrate our "new" village.  This is not a political activity or a fund raising event.
Mark your calendars now to plan on bringing your family, friends and neighbors to help celebrate our very special community.
This special event is sponsored by the Village Council & staff, Estero Council of Community Leaders, Estero Chamber of Commerce, Estero Houses of Worship, Estero Rotary Club and Blue Zones Project.