Public Hearing
Shoppes at Estero Grande
The applicant requested the Board approve a development order for the infrastructure for Phase 2 of the Estero Grande subdivision.  Estero Grande is located west of US 41 at the intersection of US 41 and Estero Parkway.
The Board approved the development order for the infrastructure only.  Conditions included that Phase 3, which is the 7,256 square foot restaurant building, have a separate development order to include the monument signage and lighting.
Workshop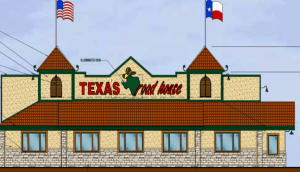 A workshop was conducted for the architectural design of the Texas Roadhouse building, which is designated Phase 3 of the Estero Grande subdivision.
The applicant was provided guidelines on ways to improve the design of the building, which are provided in the overall Estero Grande Pattern Book.
The applicant will return at a future date for review as no voting occurs during workshops.
Workshop
Primrose School of Estero

The applicant is proposing to develop a 12,111 square foot pre-school facility with playground on a 2.26-acre parcel located at 10350 Corkscrew Commons Drive adjacent to the future Marriott Springhill Suites Hotel.
The Board suggested the applicant consider breaking up the horizontal roof line and add a shade element to the playground.
No voting takes place during workshops.
Additional details are available in the minutes of this meeting.  Residents may also view the archived meeting by going to the Village website http://estero-fl.gov/council/watch-meetings-online/.
The next Design Review Board meeting will be at 5:30 p.m., Wednesday, July 25, 2018.