Soccer team to help raise funds for Estero High Booster Club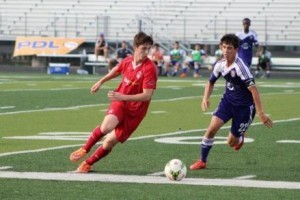 The Southwest Florida Adrenaline, a top-level men's amateur soccer team, will play all of its home games at Estero High School this season.  And, the Adrenaline USA Sports Foundation will donate $1.00 to the Estero Booster Club for each person who attends these games.
Attendance is free at all of the games, so you just have to show up to help raise money to support Estero High School's sports programs and fields.
In addition, all fans 21 and younger can go onto the field after the game to attempt to win a $1,000 college scholarship by being the last person standing after kicking a soccer ball more than 30 yards into a goal.  During their first three seasons, twenty-one $1,000 scholarships were awarded to winners of the contest.
The 2016 season begins with the first home game against Miami at 4 p.m., Saturday, May 14.
The SWFL Adrenaline is part of the 67-team Premier Development League featuring the highest level of amateur soccer in the US and Canada.
2016 ADRENALINE HOME SCHEDULE
Saturday, May 14 Miami @ SW Florida Adrenaline 4pm
Wednesday, May 18 Floridians @ SW Florida Adrenaline 6:30pm
Saturday, May 21 IMG @ SW Florida Adrenaline 4pm
Saturday, June 11 Palm Beach @ SW Florida Adrenaline 4pm
Saturday, June 18 Port St. Lucie Surf @ SW Florida Adrenaline 4pm
Wednesday, June 29 The Villages @ SW Florida Adrenaline 6:30pm
Saturday, July 2 IMG @ SW Florida Adrenaline 4pm