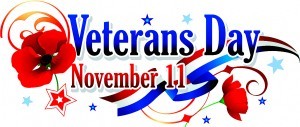 The Village is asking Estero residents who are military veterans, and who will be attending this event, to provide a brief biographical sketch in order to be recognized at the Village's inaugural Veterans Day celebration from 11:30 a.m. to 2 p.m., Saturday, November 11, at the Estero Community Park.
Residents who served in our nation's military service are asked to give a brief description and dates of their service and email this information to Carol Sacco at sacco@estero-fl.gov.
The Village is looking for community support for this event to help honor as many Estero veterans as possible.