Public Comment on Non-Agenda Items

Gary Israel, representing Rotary District 6960, spoke about the Irma Disaster Relief Fund and how the Rotary is setting up a Donor Advised Fund through the Rotary Foundation.  The Rotary Clubs are going to adopt communities, giving priority based on communities with children and the elderly.  They need many volunteers for this endeavor to do everything from heavy lifting to phone calls, sharing posts on social media and raising funds for the project. Those interested in volunteering should send an email to mary@saundersgrouprealty.com  and let her know if you are/are not a Rotarian.
Several residents spoke about their concerns following Hurricane Irma including stormwater in The Reserve and fallen trees by the railway in The Vines.
Several residents expressed concerns about further developments under review which could add to stormwater problems and stress the existing sewage plants; one resident stated the Village should consider a moratorium on further development until the Village's stormwater study is completed.
Residents also expressed concerns about new developments on East Corkscrew Road and how this will affect flooding in Estero.  Council voted to have Councilmember Howard Levitan speak to the Lee County Board of County Commissioners about Estero's concerns and ask them if they could delay approval of some of the proposed developments until their own transportation study and the results of flooding issues have been determined.
Consent Agenda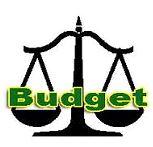 Finance Director Lisa Griggs Roberson stated that Governor Scott had provided an executive order for an extension for the millage rate and budget public hearings for all municipalities in Florida.  The Village will conduct their first public hearing at 5:30 p.m. Tuesday, September 26 with the final hearing at 5:30 p.m., October 4.
Hurricane Irma: Preliminary Debriefing
Kyle Coleman, Assistant to the Village Manager, gave a presentation on how the Village staff went throughout Estero to assess the damage resulting from Hurricane Irma.  The concentration of damage was on mobile homes.
Those neighborhoods most adversely affected were Tahiti Village, Broadway Park, Mariners Cove, Trailside Drive, Highlands Avenue area, Stoneybrook, Cypress bend and the Riverwoods Plantation. Commercial assessments are still ongoing.
The Village cleared the ditch running alongside the railroad (using Lee County's easement), cleaned the pipe running underneath Estero Parkway, and assisted the Belle Lago and Reserve communities in finding a contractor to clean their shared ditch. (Presentation)
Action Items

Estero Life Magazine – Council approved a motion for placement of full-page, single topic articles in Estero Life Magazine, beginning with the October 1, 2017 through September 30, 2018 editions.  This will enhance the Village's outreach; the financial impact for this fiscal year will be $8,340.00 (Summary Sheet)
Residents may go to the magazine's website to view past editions of the magazine at http://esterolifemagazine.com/.
Village Mowing – The Village took over many of the roads in Estero on January 7 and had piggy-backed on the County's contracts.  This effort is to ensure that the Village retains the most responsive and cost-effective contractor available.  Council approved the bid package and authorized the advertisement for competitive solicitation of RFB 2017-05 for the mowing of Village roadways.  Step 1 is the qualifications and Step 2 is the pricing.  The financial impacts will be determined following the bidding process. (Summary Sheet & Request for Bid)
Landscape Maintenance for Estero roadways – Council approved advertising for competitive solicitation of RFB 2017-06 for landscape maintenance for Village roadways. Step 1 is the qualifications and Step 2 is the pricing. The financial Impacts: will be determined following the bidding process. (Summary Sheet & Request for Bid)
Village Miscellaneous Right-of-Way Work – Council approved the bid package and authorized advertising for competitive solicitation of RFB 2017-07 for miscellaneous R.O.W. work for the Village.  This covers sidewalk repairs, sign pick-up, and other miscellaneous work.  The financial impacts will be determined following the bidding process.  (Summary Sheet & Request for Bid)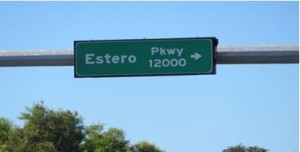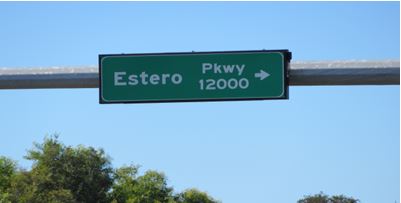 Ranking of consultants for Estero Parkway & Estero roadways landscape plan – Council approved the review committee's recommendation of Agnoli, Barber & Brundage as the consultants to be selected for contract negotiations for CN 2017-01, an Estero Parkway Roadway/Landscape Design & Estero Roadways Landscape Master Plan.  This firm has done work in Collier County, Ft. Myers and Bonita Springs.  The financial impact will be determined by the results of the contract negotiations.  The final contract and cost will be brought before Council for approval. (Summary Sheet and related documents)
Council Liaison Assignments – Council discussed changing some of the liaison assignments but tabled this to the next Council meeting.
Comprehensive Plan Workshop
Village consultants from LaRue Planning and Management Services Laura DeJohn and Ben Smith conducted a workshop on the Comprehensive Plan's nine elements.  These included Future Land Use, Transportation, Housing, Infrastructure, Conservation and Coastal Management, Recreation and Open Space, Intergovernmental Coordination, Capital Improvements, and Public School Facilities. (Presentation)
Council Communication
Mayor Jim Boesch stated he will send a letter on the behalf of Council to Governor Scott thanking him for his tenacious work on behalf of Floridians before, during and following Hurricane Irma.
Councilmember Nick Batos proposed sending a letter to all residents of Estero to gather their contact information so that the Village can reach them with the most current information during a hurricane or storm event.
Village Manager's Report
Steve Sarkozy will put together commendations for Estero Fire Rescue, Lee County for the superior work conducted at the Emergency Operations Center, and the Board of County Commissioners for the purchase of Edison Farms.
Additional details are available in the minutes of this meeting.  Residents may also view the archived meeting by going to the Village website http://estero-fl.gov/council/watch-meetings-online/.
The next Council meeting will include budget hearings at 5:30 p.m., Tuesday, September 26, 2017.