Public Information Meeting – Bassett Furniture

Representatives for Bassett Furniture presented their plans for a new 15,100-square foot store at 23230 Via Villagio at Coconut Point Mall, adjacent to City Mattress. The building will be Mediterranean in style, with fabric canopy on two windows and the building will be painted in Earth tones.
Their plans call for enhanced landscaping, park bench seating area with a fountain, and auto and bicycle parking areas. There will be no monument sign, the only signage will be on the building itself.  Regarding drainage, the applicant stated there will be no increase in impervious areas; they are providing more open space than is required. Their drainage will go into Halfway Creek. (Presentation)
The Board recommended the applicant bring photos of the existing landscape on the property and samples of the proposed paint colors, add traditional cornice and wood frames under the canopies, and the towers need to be taller.
Public Information Meeting – Chase Bank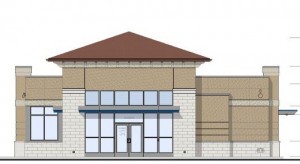 The applicant is planning to build a 3,558 square-foot building at 10801 Miromar Outlet Drive and Ben Hill Griffin Parkway.  The bank will include one detached drive-through ATM.
They plan to add pedestrian connections with pavers and enhanced landscaping.  They will provide the design for their signage at a later date, which will be along Ben Hill Griffin Parkway. (Presentation)
The Board stated the applicant needs to add traditional coverage over the ATM which is consistent with the community style and that the northern elevation needs some landscaping.
Public Information Meeting – Miromar Design Center signage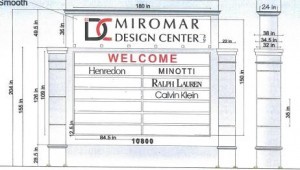 The applicant is seeking to construct a monument sign for the Miromar Design Center. The sign was originally permitted by Lee County in 2015; however, the sign was never constructed.
The sign will be located in the median; the white portion is opaque and the letters will be translucent.
The Board recommended placing the address on the end of the sign vertically so that it doesn't get covered by landscaping. (Presentation)
Miromar Design Center is located at 10800 Corkscrew Road south of the Miromar Outlet Mall.
No decisions are made during Public Information Meetings.
Public Hearing – Heartland Dental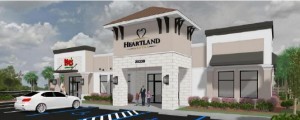 Representatives for Heartland Dental, a 5,520 square foot multi-tenant (medical/dental and retail) building, were requesting approval for their development order.
This building will be located in the Grande Oaks Shoppes north of Corkscrew Road and east of Ben Hill Griffin Parkway.
They will come back at a later date for approval of their monument sign.
The Board approved this application with the condition that the applicant add a two-dimensional band under the tower eve and eliminate the interconnect. (Presentation)
Additional details are available in the minutes of this meeting.  Residents may also view the archived meeting by going to the Village website http://estero-fl.gov/council/watch-meetings-online/.
The next Design Review Board meeting will be at 5:30 p.m., Wednesday, October 25, 2017.