Workshop
River Oaks Park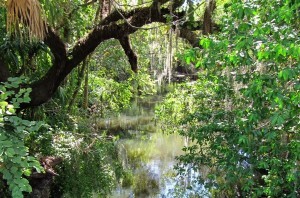 Barbara Saxton, Co-chair, "Friends of River Oaks Preserve", and Debi Osborne, Conservation Foundation of the Gulf Coast, spoke about a 10-acre property at the eastern end of E. Broadway.  The group is advocating the Village purchase the property and keep it as a natural preserve with community access. (Presentation)
Public Comment: 10 neighboring residents spoke regarding this issue, with the majority being against the proposed park/preserve due to safety, security, poor access, parking and maintenance issues.
Council came to a consensus to wait to make any determination regarding this project until they have an opportunity to review all available properties and then will set priorities.
Estero Parkway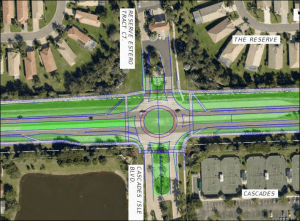 Representatives from Agnoli, Barber & Brundage, Inc. gave a presentation on Estero Parkway looking at the lane widths and on-road bike paths, the addition of a concrete separator to function as a curb and gutter, and the addition of roundabouts.  Council came to a consensus to have the contractor initiate work at reducing the lane width to 10.5 feet with buffered 7 foot bike paths and at least one roundabout at the entrances to Cascades and The Reserve of Estero.  Other elements of the roadway design, such as sidewalks, lighting and landscaping, will be discussed and prioritized later.  ((Presentation))
Action Items
Resolution 2018-01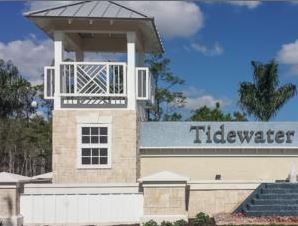 Council voted to adopt this resolution approving the Tidewater Phase 3 Replat creating 118 single-family lots. This completes the plats in this community.
Tidewater is located west of Ben Hill Griffin Parkway and south of Estero Parkway.  (Resolution)
Resolution 2018-02


Council voted to adopt this resolution approving the Estero Grande subdivision plat creating 9 tracts including commercial, multi-family residential, with the remaining tracts dedicated to a preserve area, roadway and road right of way, and lake and site drainage areas.  (Resolution)
Estero Grande Pattern Book

Council voted to approve the Pattern Brook with the condition that a number of changes in the language are made so that it reads as a regulatory document.  The applicant agreed to make changes to the book regarding interconnectivity and safety concerns, such as raising the cross walks.  Also, any proposed gas station will be reviewed by the Design Review Board and Village Council through a later amendment to the Pattern Book. (Pattern Book)
Planning & Zoning Board and Design Review Board member's terms expiring March 31, 2018
Three Planning & Zoning Board and four Design Review Board member's terms expire on March 31, 2018. Notices will be published in the News Press, on the Village website and the ECCL email distribution list.
The proposed timeline is to publish the notices on January 22 with the deadline for applications on February 13, 2018.  Council will conduct the first round of interviews on February 21, second round of interviews on March 7 and on March 21 any additional interviews will be conducted and then the Board appointments will be made.
Mowing for Village Roadways RFB 2017-07
Council approved awarding the RFB to P&T Lawn & Tractor Service, Inc. for mowing Estero Roadways for a one year period.  The annual expense will be $95,700, with the cost to the Village through the end of the current fiscal year to be $71,775.
Street Light Maintenance RFB2017-05
Council approved awarding the RFB to American Infrastructure Services to provide street light maintenance services for one year which includes lighting inspection, maintenance and repair of decorative poles and light fixtures.  These costs will be funded through the Public Works – Street Light Maintenance account, which was adopted at $16,500 for FY 2017-18.
Miscellaneous Right-of-Way work RFB 2017-08
Council approved awarding Pritchard Construction LLC and American Infrastructure Services a one-year contract.  The vendors will provide sidewalk repair, traffic sign replacement, litter pick up/disposal and post-storm clean-up on an as needed basis.  The contract with American Infrastructure Services will be capped at $20,000 and the contract with Pritchard Construction will be capped at $50,000 for the 2018 calendar year.
Landscape Maintenance RFB 2017-06
Council approved awarding P&T Lawn & Tractor Service, Inc. a one-year contract for landscape maintenance for Estero roadways. This includes general median maintenance, sprinkler system checks and mulching.  The contract is for $29,120.
Additional details are available in the minutes of this meeting.  Residents may also view the archived meeting by going to the Village website http://estero-fl.gov/council/watch-meetings-online/.
The next Council meeting will be held at 9:30 a.m., Wednesday, February 7, 2018.