The Planning and Zoning Board (PZB) is serving as the Village of Estero's state-required Local Planning Agency.
The PZB is responsible for conducting all public hearings on zoning approval requests for proposed new Estero developments and then making recommendations to the Village Council and/or taking actions itself on variances, deviations and special exceptions.
The PZB meets once a month to review action items and conduct Public Informational Meetings (PIM). The PIM is a workshop session where questions can be asked but no decisions are made.
The PZB meetings are held on the 3rd Tuesday of each month at 5:30 p.m. in the Council Chambers of Village Hall, 9401 Corkscrew Palms Circle, Estero, Florida.
The Council's goal is to enhance public participation and is investigating the best method of notifying all communities impacted by matters brought before the Board.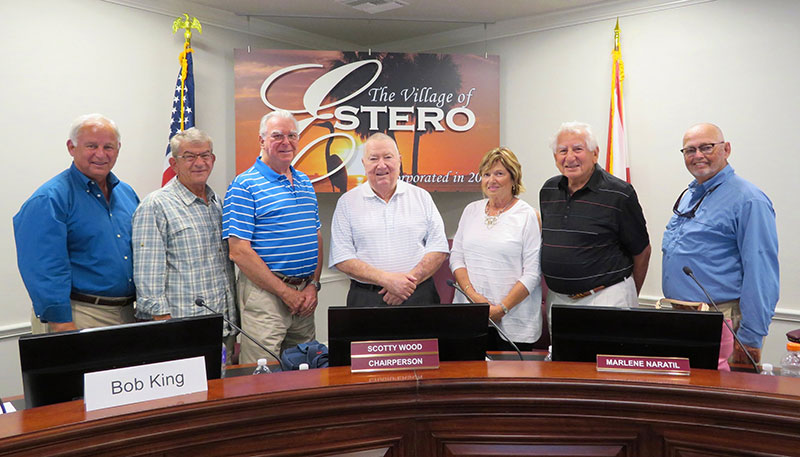 Planning and Zoning Board members, left to right: Bill Campos, Anthony Gargano, Robert King, Leonard "Scotty" Wood III, Marlene Naratil, James Tatooles, John Yarbrough.
Articles and Meeting Summaries
The Planning & Zoning Board will conduct a Public Information Meeting for Cascades of Estero's application for pickle ball courts at their meeting at 4:30 p.m., January 15. Public Hearings will be held for Rookery [...]
Click edit button to change this code.