Donation to Three Oaks Elementary & Three Oaks Middle:
From Shadow Wood Community Association
Maintenance Carts

The Shadow Wood Community Associated recently presented a maintenance cart to Three Oaks Middle School and to Three Oaks Elementary School as part of Estero's Education Initiative. The carts will be used by the Maintenance Department at each school for moving supplies around their campuses.
The Estero Educational Initiative was established to create a partnership between the Village of Estero and the Lee County School District to help make the schools in Estero the best they can be.
It is the goal of this Initiative to create a public/private partnership between the Village of Estero and the Lee County School District, businesses, civic organizations, residents, parents and school staff to work together to encourage volunteerism in our schools and to raise funds to improve educational, recreational and esthetic experiences in our schools.
District 6 Councilmember Nick Batos is the Council Liaison for Estero's Education Initiative.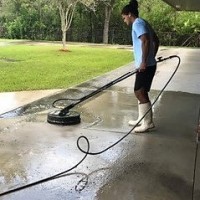 Donation to Pinewoods Elementary:
From The Club at Grandezza Living Community
Power Washing
In June of 2018, The Club at Grandezza made the decision to donate manpower and equipment to power wash the Campus at Pinewoods Elementary School before school start-up. This Project is one of the results of a Memorandum of Understanding Agreement signed between the Village of Estero and the School District of Lee County.
School Board Member Chris Patricca and Councilman Nick Batos of the Village of Estero were most instrumental in making that happen. The Estero Council of Community Leaders Education Outreach Council was charged with recruiting community support and volunteers to meet the Estero area school's needs.
Pinewoods Elementary School's limited funds prohibited the school from implementing a program to clean up the school grounds. Stacey Henson (General Manager, The Club at Grandezza) and Club Maintenance Supervisor (Scott Moorehead) offered to complete a Power Washing Project for Pinewoods Elementary school as a donation from The Club at Grandezza to our community.
The project required 5-6 days to complete. Beginning July 30, 2018, the project continued for 4 -5 days and each project work-day commencing at 6 am. Stacey and Scott not only authored the project, but Scott literally was there every day in the trenches.
"To say that I am overwhelmed and grateful is an understatement at best…WOW!  What an incredible gift!  Our school will look just amazing!  Thank you just isn't enough."  Leslie Gunderson, Principal, Pinewoods Elementary School LeslieAG@LeeSchools.Net.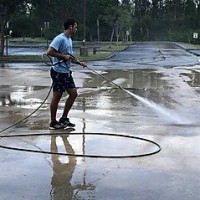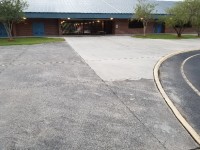 Junior Achievement "2 – 5 – 8 – Graduate" Program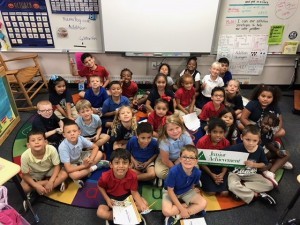 Junior Achievement's core belief is no one can improve their circumstances without a belief in themselves and a sense of purpose. JA believes a missing element in education is teaching our youth major life skills like money management, career readiness, and entrepreneurship.
Councilman Nick Batos, the Village of Estero's liaison to Lee County Schools, collaborated with the Lee County School Board and the Principals of our Estero schools to evaluate how to best utilize Estero Council of Community Leaders (ECCL) JA Ambassador volunteers to make the most of their talents and experiences for the benefit of our students.
Collaborating with Junior Achievement of Southwest Florida, the ECCL's Education Outreach Council (EOC) implemented a full-scale initiative to engage volunteers to serve our young people in Lee County Schools located in the Estero area. is a major EOC initiative.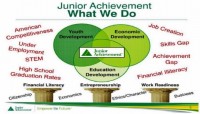 The major initiative's purpose is to teach our children the "language of success" and help them understand how to succeed in the game of life.
Currently: the EOC has exceeded the recruitment goal of eighty JA Ambassadors for Estero-area schools for the School year 2018 – '19. Of 83 volunteer Ambassadors, 42 live year-round In Estero- area; 41 are here 3 – 6 months a year.
JA Ambassadors serve as role models, helping students make the connection between what they learn and how it can ultimately impact their lives.
JA Ambassadors can be the catalyst to help inspire a change in attitude.
JA Ambassadors provide positive reinforcement for students
JA Ambassadors represent a positive change in the students' environment
In a classroom, JA Ambassadors engage enough students where there is positive peer support
Current Ambassadors come from living communities, not-for-profit, and for-profit organizations:
Sixteen different gated-communities
Ten banks, financial, and wealth management Estero-area businesses
LEE HEALTH and HERTZ
Other Estero-based Business owner's employees
Parents of students attending Estero-area schools
Current Estero-area Schools (2018 – '19) "2 – 5 – 8 – Graduate Core Team"
Vanessa Santiago, Lee County Program Manager, Junior Achievement
Kenny James, Education Outreach Council (ECCL)
Amy Kuchenbecker, Education Outreach Council (ECCL)
Lisa Mason, Education Outreach Council (ECCL)
Megan Dixon, Education Outreach Council (ECCL
Junior Achievement of Southwest Florida offers you opportunities in Estero to give back to our community and the children in our schools. There are no hard and fast qualifications. A variety of positions are now available including tutors, mentors, and many others. Time commitment can be what fits your schedule. You are invited to participate. Supporting and teaching our children is a very rewarding and memorable experience for both you and our students.