Public Information Meeting
Pavich Center

Joe Pavich Jr. is requesting to rezone two lots totaling .75 acres on the southwest corner of Corkscrew Road and Happy Hollow Lane allowing for building a multi-use commercial facility. This property is located approximately 500 feet west of Via Coconut Point Road.
The proposal is to build a two-story, 35-foot tall building with 8,000 square feet of office space and mixed use and 1,050 square feet of restaurant, retail or café, and 950 square feet of courtyard/outdoor seating with 30 parking spaces.  The office space on the lower right side of the building would be for Joe Pavich Jr.'s real estate offices, and the lower left side of the building will be either a café or small restaurant. (Presentation)
No voting occurs during Public Information Meetings.
Public Hearing
Miromar Outlet Mall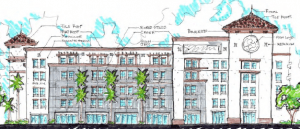 Representatives for Miromar Factory Outlet were requesting to re-plat lot M7 and a portion of Tract 7 to accommodate a 135-room hotel.
Staff recommended approval; the Board recommended approval.  This application will go to the Village Council for final approval.
Sprouts
A representative for Sprouts Farmers Market was requesting a variance to place a monument sign 5 feet from the US 41 right-of-way.  Sprouts is a grocery store which provides fresh produce from local growers as well as seafood, bakery, etc.  The proposed store will be located at Estero Grande at the intersection of Estero Parkway and US 41.
The staff recommended approval of this variance and the Board approved the variance.
The next Planning & Zoning Board meeting will be held at 5:30 p.m., Wednesday, June 18, 2019.