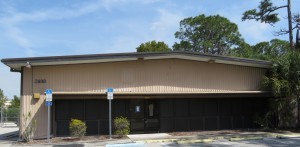 The Planning & Zoning Board voted to recommend Council approve, with conditions, the applicant's request to rezone 8111 Broadway E. from agriculture to commercial in order to re-develop the old post office site and building for various commercial uses. The proposed uses can be found here in the agenda attachments here: https://estero-fl.gov/agendas/
The property is on approximately one acre located east of the Broadway Shoppes and north of Estero United Methodist Church.
The applicant is planning to remove the western entrance to the property while widening the eastern entrance.  The building improvements will include a tower feature, columns, decorative brackets, canvas awnings and clay roof tiles.  The monument sign, which will be adjacent to the driveway, will replicate the building colors and be capped with clay tiles.
They plan to provide a sidewalk and stairs to the adjacent commercial plaza to the west of this building, as well as an ADA compliant sidewalk and ramp with handrails connecting the existing sidewalk to the west of this property. They will also be changing out the lighting, adding new light poles in bronze to match the building.  (Presentation)
The applicant's request will now go to the Village Council for a final decision.
Additional details will be available in the minutes of this meeting.  Residents may also view the archived meeting by going to the Village website https://estero-fl.gov/council/watch-meetings-online/
The next Planning & Zoning Board meeting will be held at 5:30 p.m., Tuesday, December 17, 2019.